When there is only one room in the apartment, then you will not go too far with the choice of stylistic design or interior decoration. It has always been assumed that way. But as it turned out, you can still create a unique design and make several separate zones from one room at once, which will not only make it possible to competently use the available space, but perfectly stylize the room in a modern style.
Content
one. Glass partition
2. Zoning with finishing materials
3. Low partition
The most important thing is to try not to go beyond what is permitted. Of course, each person has their own boundaries. But this means not to try to create a dozen zones in one room. The best option would be from two to four zones so that you can feel comfortable.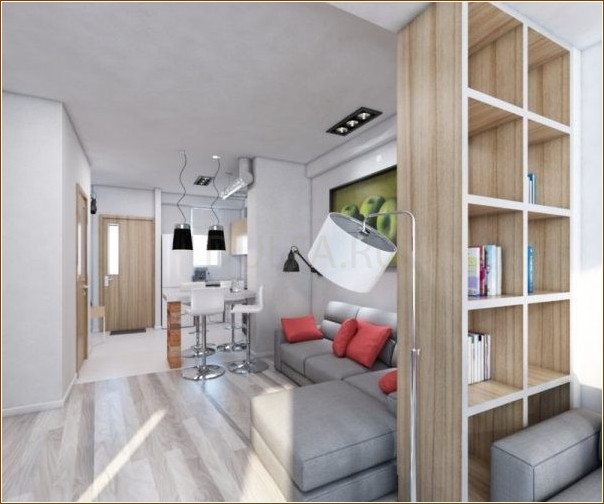 Glass partition
Of course, you can immediately go the rough route and divide the existing room into two parts. Moreover, the so-called bedroom will be located near the window. But if you enclose the bedroom with a blank wall, then natural light will not enter the living room. Then you will have to use only artificial lighting around the clock, which is not entirely comfortable if it happens on an ongoing basis.
But due to the fact that today there is no shortage of building and finishing materials, you can create a unique composition. This will be a large frame that will take up the entire space from floor to ceiling and from one wall to another. The frame will be divided into a large number of parts of the same or different size and shape. Glass will be installed in each of these parts. Thanks to this, you can visually see a wall in front of you, but at the same time, this wall will constantly transmit natural light. You can choose frosted glass, thanks to which no one will see what is happening in the bedroom.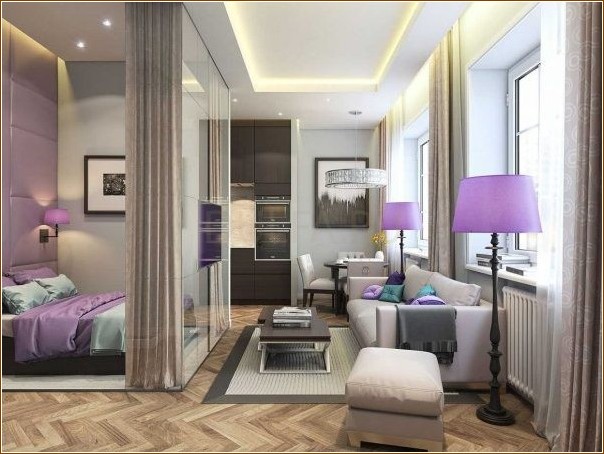 Zoning with finishing materials
As strange as it may sound, the floors in the same room can be finished with several finishing materials at once. For the relaxation area where the sofa is located, you can use a parquet board. In this area there will be only a sofa and a TV.
But for the work area, where the table and the computer are installed, you can use carpets, which will pleasantly tickle the feet of bare feet and warm you at work on winter evenings.
The rest of the zones can also be decorated with parquet or laminate, only in a darker or lighter color. It is not recommended to use tiles in such rooms, since they are rather cold and are only suitable for a bathroom or kitchen.
But do not forget also about the fact that the room has walls, which also need to be finished with different materials in order to zone the finished space. Here you can use absolutely any technique. It can be not only wallpaper and paint, but also natural wood or even natural stone. Here, the finishing possibilities are limited only by the imagination and financial capabilities of the owner of the apartment.
Low partition
The worst thing about a one-room apartment is that the bed is always in sight. Guests may not feel comfortable, as it seems as if you are not in the living room, but in the bedroom.
To get rid of this feeling, the bed can be fenced off with a small partition. Thus, it will be in the corner, separated so that it will be difficult to notice it immediately. Indoor flowers or books can stand on this partition. You can also place the TV in order to accurately distract the guests' attention from the bed itself and switch it to something else. This technique will allow you to visually divide one room and make two separate rooms out of it, without any curtains and walls.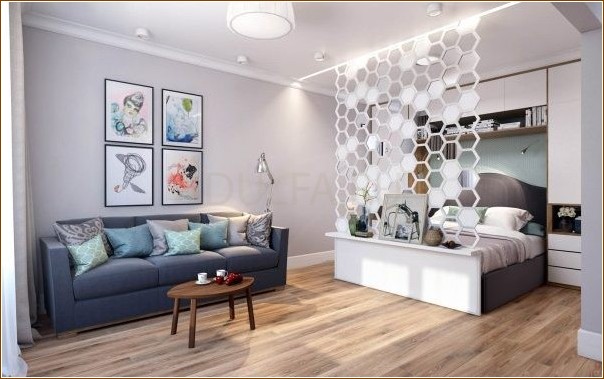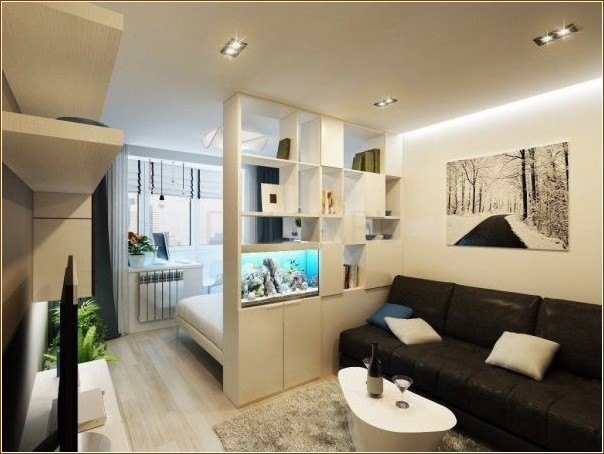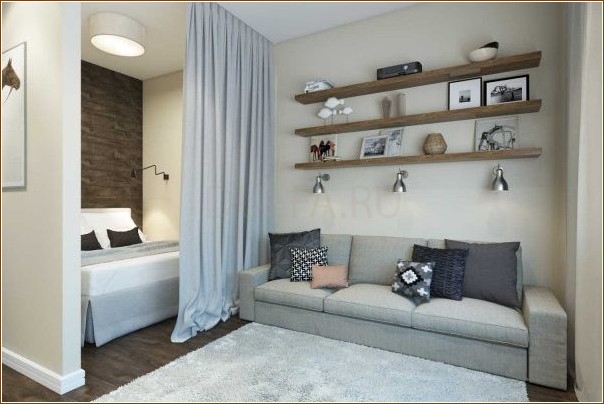 TWO rooms out of ONE. Partitions for zoning.