Every year, design solutions for arranging the jungle in an apartment are gaining in popularity. We will show you how to create a trendy rainforest in your home without the help of professional designers.
Content
one. Wallpaper and paints
2. Textile
3. Lighting
4. Decorative elements
5. Plants
If you wish, you can go on a trip to distant countries, lie under a palm tree and enjoy the opening landscape. Or you can recreate a tropical forest in your apartment and feel the presence of summer, sun, beach all year round. Thanks to the always low prices in the Leroy Merlin hypermarket chain, repairs will be affordable for everyone.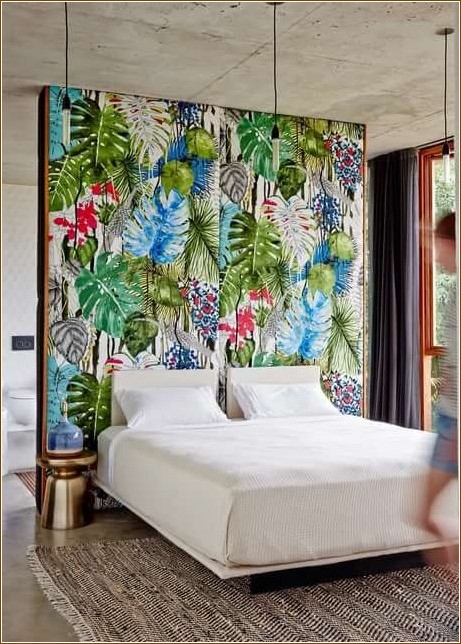 Wallpaper and paints
Why do designers like the tropics theme in apartment interiors so much? The answer is simple: living plants, nature and natural colors are what the inhabitants of modern cities are so lacking. Look around, what do you see besides the gray, boring high-rise buildings? Has your gaze longed for the bright colors of nature: the clear blue sky, the green meadow, where a riot of colors from flowering plants reigns? The tropics are not just nature, they are the brightest, richest and most impressive of the existing worlds. Just one glance at palms, ferns and exotic flowers brings to mind the heat, vacation, sea, fresh air and the desire to live.
In "Leroy Merlin" there is a wide range of wallpapers with tropical prints, which can always be supplemented with a bright monochromatic paint that matches the overall composition. A bright background is a great start to create your home jungle.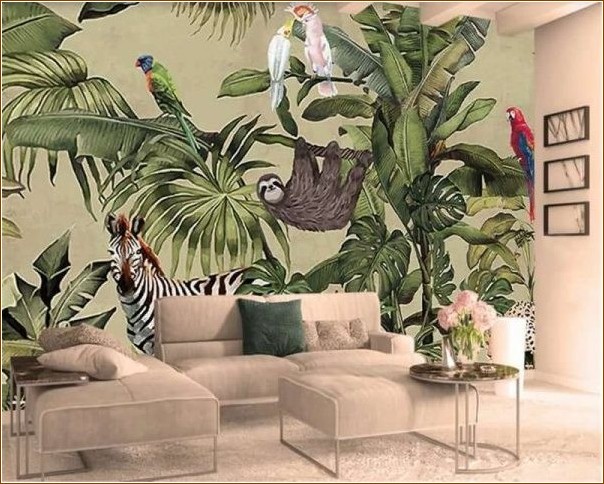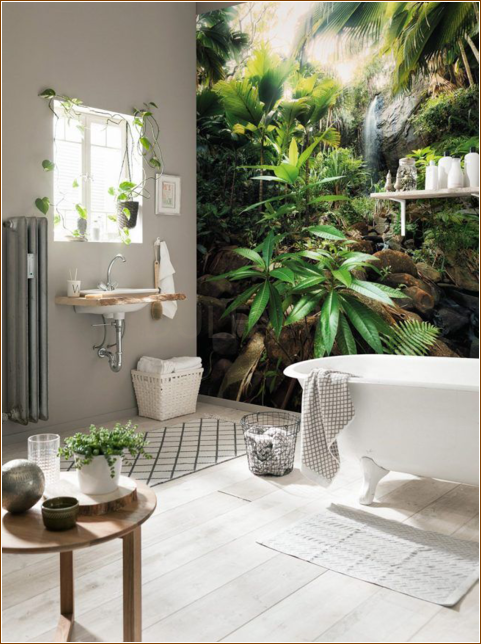 Textile
Textiles are of no small importance when decorating the interior of a room. A huge assortment of fabrics from different materials with plant prints will help to recreate the natural relief. Do not be afraid to play with bright interior items: curtains, carpets, decorative pillows and bedspreads. In addition, textiles are easy to replace with another if you want to change the style of the room without resorting to significant costs.
Bright, green monochromatic curtains will attract maximum attention and serve as the basis for a tropical style of the room. Decorative pillows can be chosen in different shades from pastel to bright, the main thing is that the chosen colors look harmonious as a whole. In addition, a carpet with an animal print can act as a bright accent. This will give the impression that a large jungle predator is lurking in the room.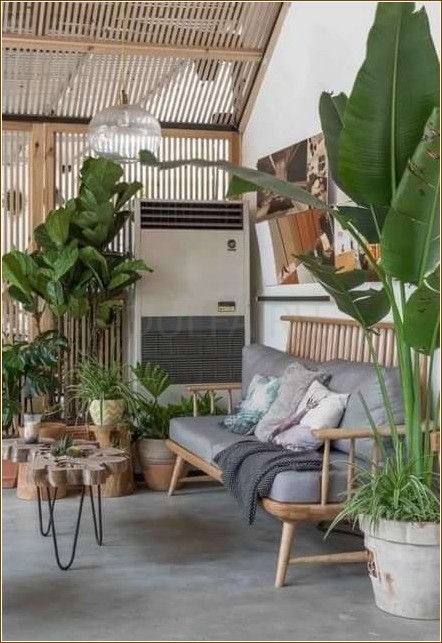 Lighting
A tropical trend in the interior requires the maximum sense of unity with nature. This can be easily achieved with rough, poorly finished natural wood furniture. But what about the lighting? Luminaires should create the feeling of sunlight penetrating through the branches of the trees. choose light, openwork chandeliers and sconces with wicker lampshades.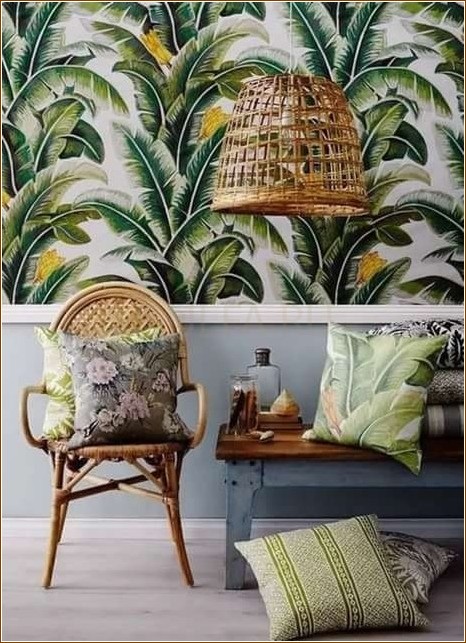 Decorative elements
The best decor for a rainforest will be real tropical elements. If you still have photographs from past travels to exotic countries, feel free to use them as the main decorative element. Choose your photo frames from natural wood brown, black or green.
The lack of thematic photos shouldn't upset you. They can be easily replaced with themed posters featuring tropical beaches, colorful birds, coconut trees and blue ocean. Leroy Merlin offers a wide range of tropical decor elements: wicker baskets, plates in the shape of palm leaves and much more.
Plants
No tropics are possible without appropriate plants. Palm trees, ficuses, dracaena and orchids will be the perfect completion of a tropical interior. If you don't know where to put your favorite geranium or rose, then decorate it — transplant it into a pot with a tropical print or add artificial fern leaves. Do not be afraid to show your imagination and you will succeed.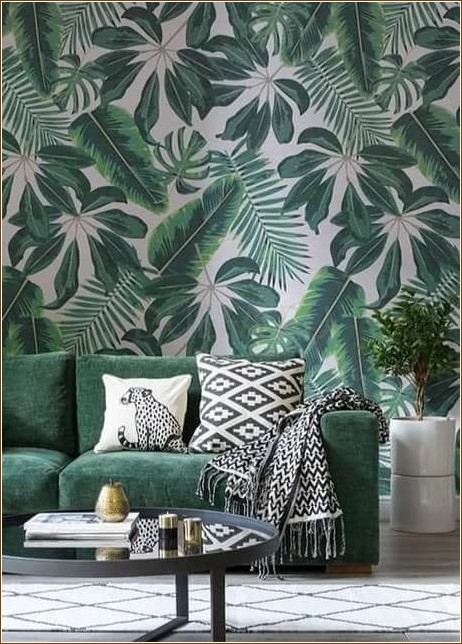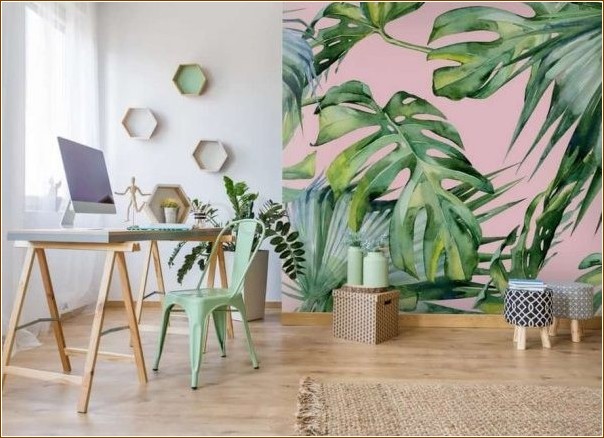 Rainforest magic