Spring is just around the corner, so if you decide to start a renovation, then it's time to refresh the room with spring motives. This style is suitable for any time of the year, but the very essence is that the room will always be fun and sunny, no matter what the weather is outside the window.
Content
one. American classics
2. Light interior with floral motifs
3. Attic apartment
Spring styles are quite varied and experienced designers can offer several standard options at once. However, some styles can be very bright and rich, while others are more discreet. Everything will depend only on your personal preferences.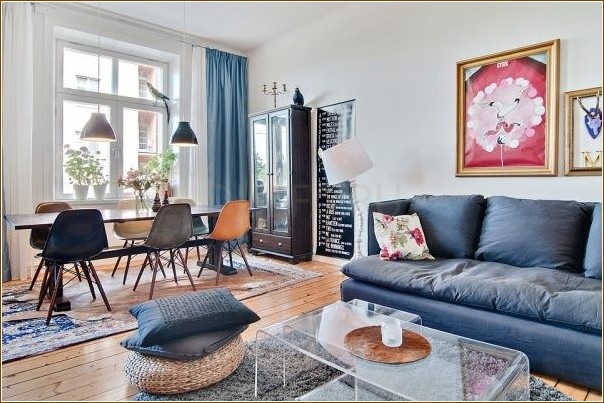 American classics
American classic interior style has been fashionable at all times and eras. Walls can be painted in neutral tones so that they do not attract all the attention only to themselves and do not become accent elements. A beige color is ideal for walls, which can be diluted with a small amount of pink paints.
But the room itself, decorated in neutral colors will not look, therefore, the interior should be supplemented with more saturated colors, which can appear in furniture and decoration items. Of course, you should not choose acidic paints with bright shades that will irritate the eyes. But colors shouldn't be dull either. It is best to choose expressive paints that can optimally fit into an already beautiful interior.
Light interior with floral motifs
You can choose the simplest and most optimal option for finishing. All walls and ceilings will be decorated exclusively in white colors. Of course, a white tone is needed in moderation and just a white room will resemble a hospital ward. But to prevent this from happening, the design should be diluted with bright colors. You can use floor tiles that are decorated with bright colors. You can also make one wall in the room accent and place floral motifs on it or just bright abstractions on a white background. This will immediately dilute the pale contrast and give the interior their own unique flavor.
You can also play with paints with textiles. After all, if you place ornaments in the form of flowers or special volumetric overlays on the curtains, or simply choose a fabric with drawings or embroidery, then it will immediately stand out against the general background, and the pale interior itself will no longer seem so pale.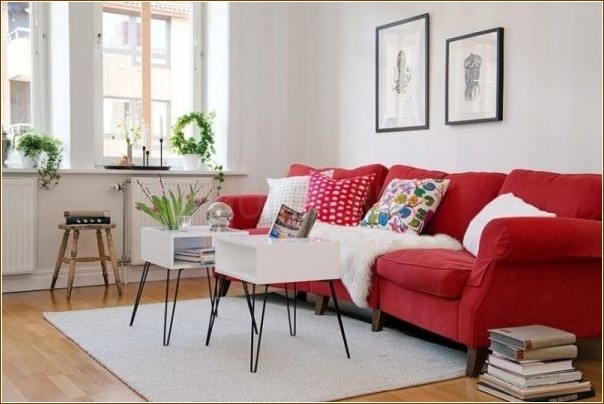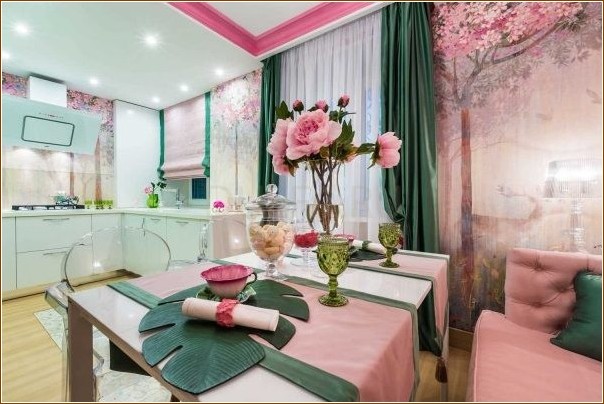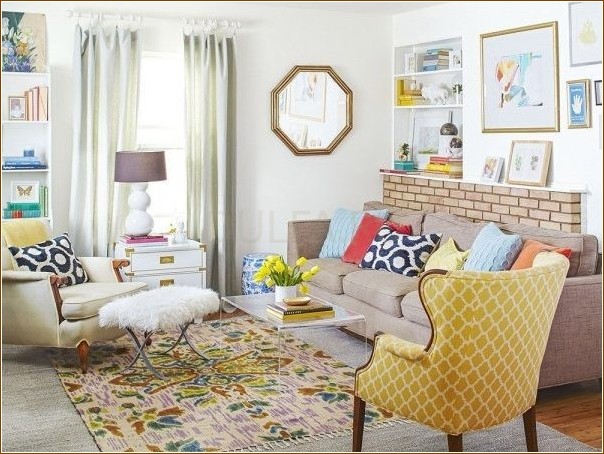 Attic apartment
A lot of people do not just buy a hopeless situation, but specifically strive to buy an apartment that is made in the attic. After all, this is a ready-made unique design, which should only be supplemented with several colors and shades.
It must be remembered that the ceiling will be chamfered, so that the room does not seem small, the ceiling must be decorated in the lightest shades possible. A heavenly or pale beige shade is perfect.
The upper part of the wall can be decorated in darker colors. Expensive wallpapers with beautiful patterns in the form of flowers or plants will look beautiful. It will not be superfluous to choose the motives of animals and fauna.
The lower part of the wall can be decorated in richer, but darker colors. It can be dark blue paint or tiles. If desired, you can use a parquet board to create the appearance of natural wood in the interior decoration, which immediately gives the apartment a more noble appearance.
Windows need to be given special attention and in no case use curtains and even more massive curtains made of thick fabrics. Here, the light will not fall at an acute angle, but almost at a right angle, since the windows in the attic are roughly located, speaking on the roof itself.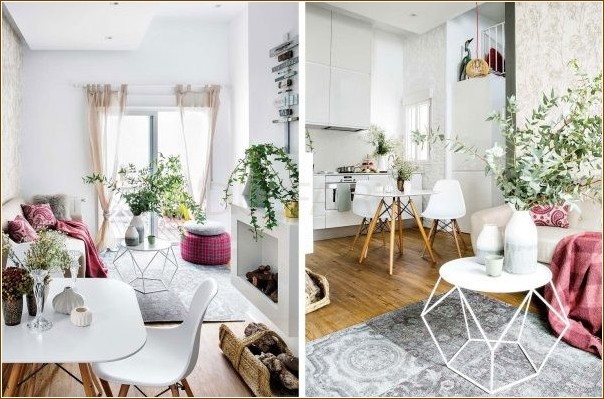 There is never too much beauty, spring interiors in Zurich