Natural materials have always looked great in the design of absolutely any interior and style. But there can be nothing more natural than decorating with saw cuts a natural tree trunk or hewn timber. There are no boundaries to fantasies, so everyone can use these materials as they see fit.
Content
one. Hallway hanger decor
2. Saw cut clock
3. Saw table tops
But nevertheless, experienced designers decided to share their own developments, which they often use when designing certain styles. Some of them can be more than attractive, so you can take a couple of tips to your arsenal.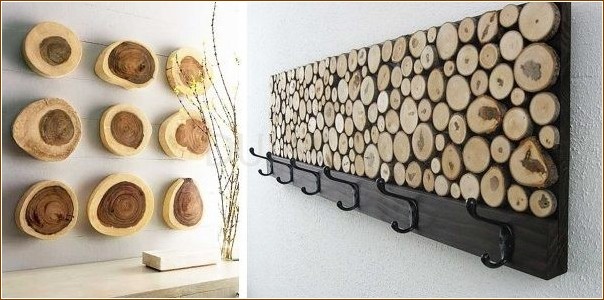 Hallway hanger decor
Each person in the hallway has a hanger on which you can hang keys or outerwear, an umbrella or a cap, for example. But in most cases, this is a one-piece structure that is simply attached to the wall. Of course, it is stylish and modern, but everyone has it. In order to immediately attract the attention of visitors, you need to come up with something unique, inimitable and at the same time exquisite.
You can use saw cuts from branches up to five centimeters in diameter to revet a part of the wall on which our unique and inimitable hanger will be located. We veneer the wall from the floor to the ceiling. And it is not gentle to choose cuts of a certain size. It's enough just to take the ones that come to hand first. It is necessary to leave space, or immediately place at a certain height and distance from each other cuts 10-15 centimeters long, which will actually act as a hanger. They can hang clothes or bags, or even umbrellas. But at first glance, they will be practically invisible.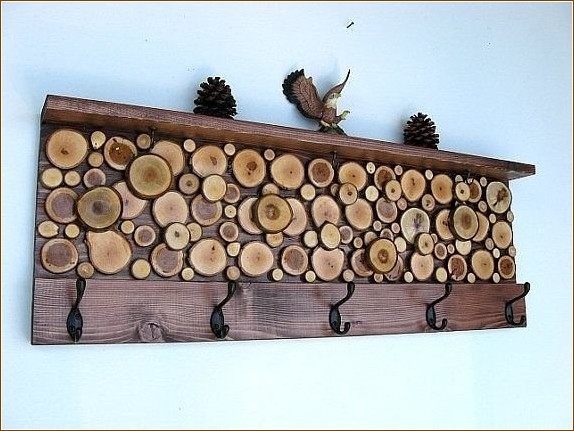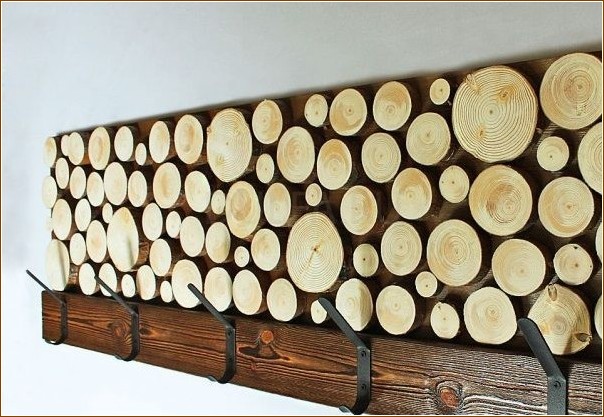 Saw cut clock
Everything is extremely simple here, since you only need a working mechanism from a wall clock with arrows, and of course a saw cut. There can be two options. It can be a solid saw cut from a large palaine, which in itself will act as a base for the clock. You can also assemble a watch structure from several small cuts. It will be optimal to choose the saw cuts of the timber and connect them together.
In the center of the structure, no matter what shape it is, we drill a hole. It is necessary in order to thread the mount for the arrows there and actually fix it on the base. We also fix the mechanism on the reverse side. At the very top we attach a piece of saw cut, which will be exactly the same thickness as the mechanism, so that when we hang everything on the wall, the clock hangs perfectly straight. Next, it remains to collect and glue the main four numbers from thin branches and insert the battery into the mechanism.
Saw table tops
Countertops made of natural wood sawn will look very nice. Of course, you need to understand that there are no such wide trunks, the diameter of which would be enough to make the perfect tabletop for a coffee table or a full dining table.
That is why you need to lay the oilcloth on a flat surface and assemble the sides of wood along the contour of the future countertop. We spread cuts of different sizes in the center in an arbitrary or pre-planned order so that everything looks as effective as possible, but at the same time not forcedly and naturally. Now we fill everything with epoxy, diluted with the witness and wait for two days. Of course, grab the resin from the outside pretty quickly, but in order for it to harden absolutely everywhere, it is best to wait. It turns out the perfect tabletop, which is not only beautiful, but also as durable as possible. For greater effect, some cuts can be opened with wood stain.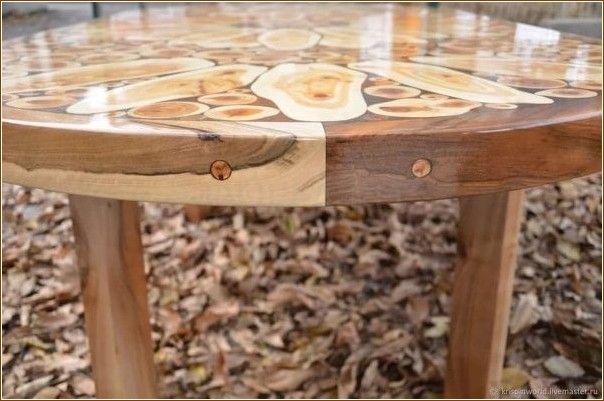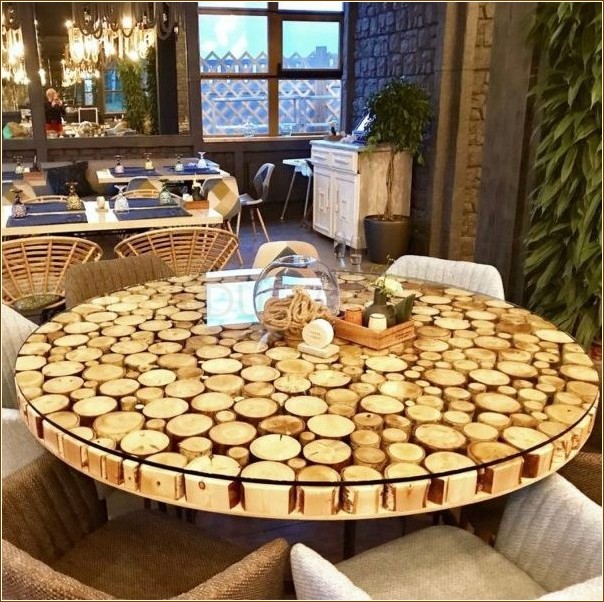 WOOD SPOKE CLADDING. Peculiar decor.