Absolutely every home has a variety of storage systems. Previously, only cabinets, shelves and racks were used for this, but nowadays a creative approach to solving this issue is very relevant. Pegboard is very popular now. Most do not know about this convenient and versatile subject. Therefore, it is about him that will be discussed in this article.
Content
one. What is a pegboard?
2. Pegboard in the hallway
3. Pegboard in the kitchen
4. Pegboard for needlework
5. Pegboard in the children's room
6. Pegboard in the bathroom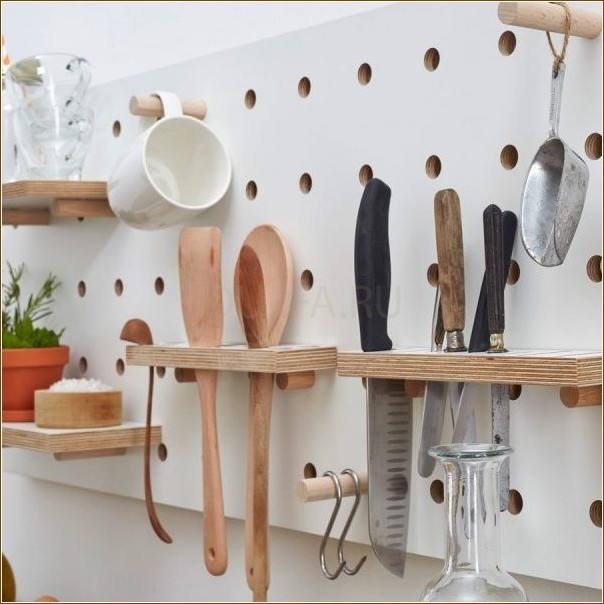 What is a pegboard?
A pegboard is a wall board for storing various items. It happens metal and wooden. The capabilities of this board depend on the preferences of its owner. You can add hooks, pegs, rails, shelves, baskets to it or make an interesting combination of several items. Initially, such a board was used in a garage or workshop, but now the use of a pegboard has become relevant at home. Such a board not only helps to store all sorts of little things, but also becomes a real decorative element of the interior. If we talk about the use of such a board, then it is universal and there are no boundaries for its use.
Pegboard in the hallway
Such a board will look great in the hallway. You can store keys or other little things on the pegboard. It can also serve as a hanger for things, hats and handbags. Such an organization of storage is very interesting and will look unusual in the hallway.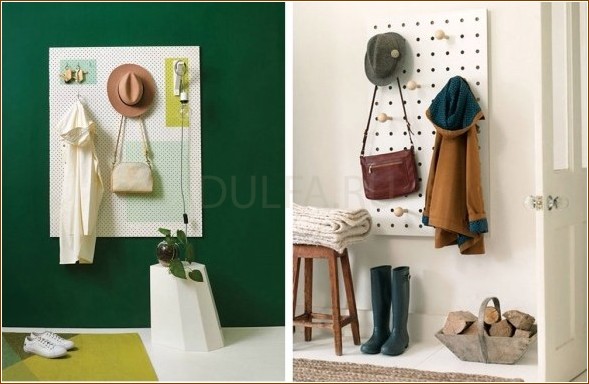 Pegboard in the kitchen
Pegboard is perfect for those who like to openly store kitchen utensils. The pegboard can be made more functional by adding hooks, rails and shelves. Such a board will be an excellent place for storing beautiful kitchen items that you don't want to put in the closet, but you want to admire them. It is not necessary to mount the pegboard in a conspicuous place, it can also be placed in the closet, it will significantly save space, since all items will hang neatly each in their place, and not randomly lie in the closet. When choosing a pegboard for the kitchen, you need to give preference to moisture-resistant material, since the humidity in the kitchen is increased.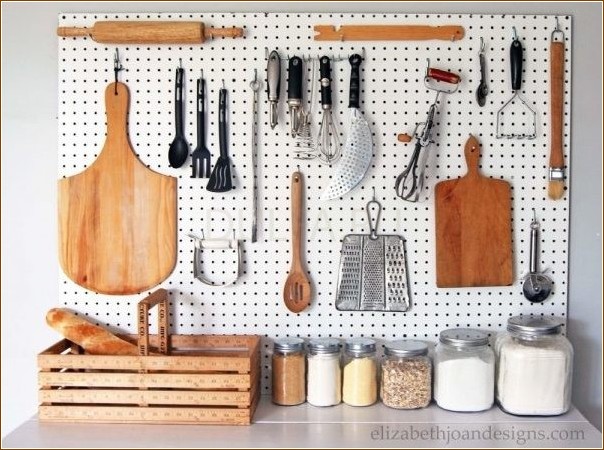 Pegboard for needlework
Needlewomen always lay out their materials neatly for people, but not always there is enough space for them. In this case, a pegboard will be the ideal option. Various handicraft items can be neatly hung up and then you don't have to waste time looking for that ooze object, you don't have to constantly put everything out of the closet, and then put it back there. Such a panel will make the workplace much more convenient.
Pegboard in the children's room
Such a panel will look great in a nursery. Children have a lot of different toys and little things. They can be easily hung neatly on a pegboard. It is suitable for drawings and for various little things or office supplies.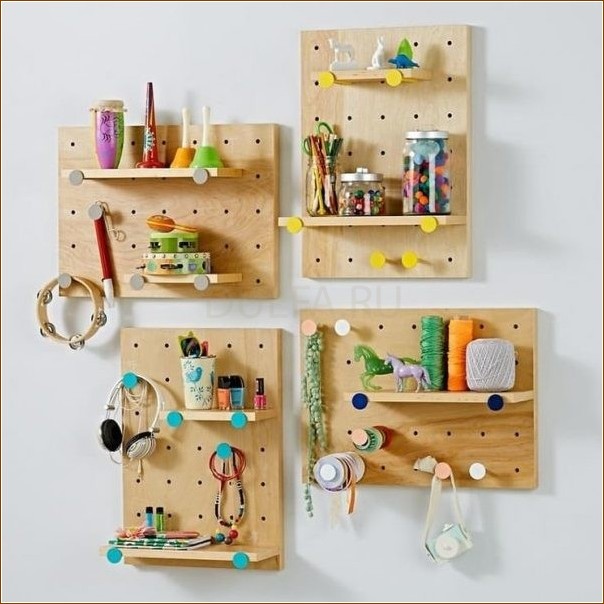 Pegboard in the bathroom
Such a panel in the bathroom will be an original way to store various little things. Can be supplemented with pegboard hooks and shelves and then it will be possible to neatly store towels, various cosmetics and personal care products in it. It is much more convenient to fix the pegboard on the wall once well than to constantly change the hooks. But you need to remember that in the bathroom, as in the kitchen, there is high humidity, which means that the pegboard must be made of moisture-resistant material.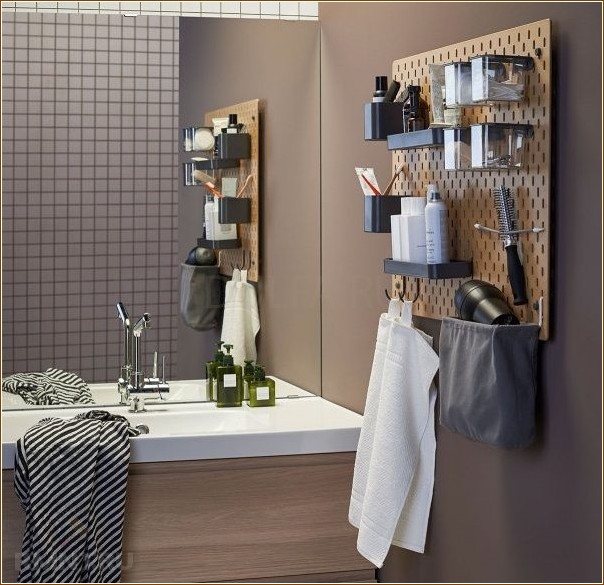 French planks. Versatile tool storage system.