I always want every square centimeter of our premises to be beautiful, warm, comfortable. And, naturally, batteries made of metal and cast iron do not fit into the interior. No matter how modern they are. But you won't leave the house without radiators either. There is only one conclusion: they need to be closed with something. So to speak, hide from prying eyes. How to do this to make the camouflage look natural, every room looks great? What methods were invented by our compatriots (and not only!)? Let's just answer these questions and give answers in our material. Small but capacious. Our tips will surely be useful to readers.
Content
one. Listen to the opinion of modern designers
2. Use only quality materials
Listen to the opinion of modern designers
What experts advise us? You can talk about this for a long time. Let's highlight the main points:
Disguise with curtains. This is the easiest and most effective method. A properly selected curtain will hide any heating devices. And the undoubted advantage is the fact that the level of heat transfer does not suffer at all. The main thing is that the battery is in a niche;
We paint the radiator. This way to hide the battery from prying eyes can be called rather arbitrary. As you all perfectly understand, even painted cast-iron batteries (if they are not covered with anything) are unlikely to fit into the interior of your rooms. Aluminum batteries are a completely different matter. Drawings and stencils on the radiator will come in handy;
Note — decoupage. There is no need to spend money here at all. I pasted over the radiator with whatever came to hand, and the trick is in the bag! Naturally, if your hands grow from the right place, and you can do everything with high quality. Otherwise, it's better to look at the battery for what it is.
But it is not always possible to do with decoration. In any case, the main thing is not even beauty and originality. It is important that you can easily get to the adjusting elements without any problems. If suddenly force majeure occurs or you just need to get to these very elements during repairs, everything should be done quickly. Make camouflage screens, use removable structures. There are plenty of options!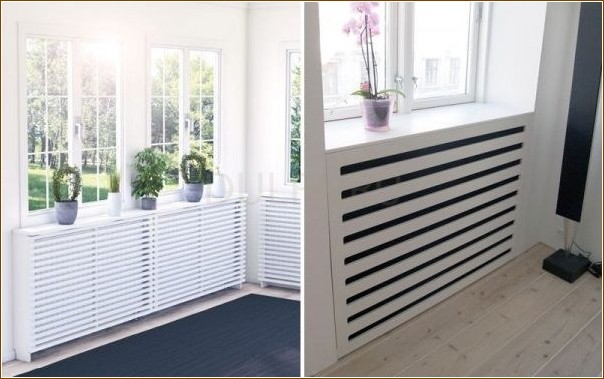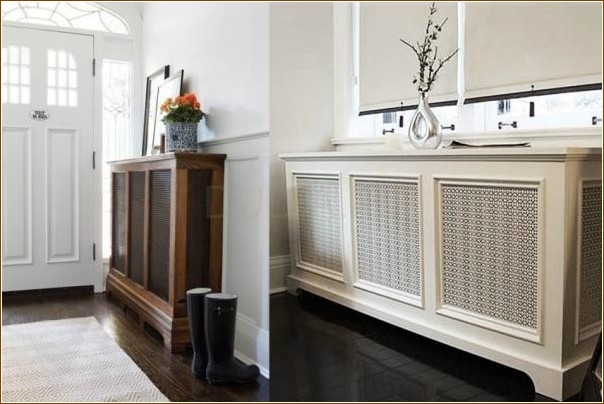 Use only quality materials
The battery can be covered with, for example, a thick glass screen. Of course, it must be fireproof. You can add the same photo print or any stained glass pattern. All this is done in a matter of minutes. And there is nothing complicated about it.
Decided to use a wooden frame? You are welcome! If wood furniture prevails in the interior, then such a frame will look really good. The main thing is not to be mistaken with the color. The color, shape and texture of your sofa, armchairs, tables and chairs should match the frame.
And, of course, one cannot but say a few words about drywall. It is one of the most demanded materials in the modern world. Of course, you can also hide the radiator with it. Drywall is not so expensive: everyone can afford a purchase. Mounting material is as easy as shelling pears. By the way, drywall is also suitable for further decoration. Do you want to stick some stickers on it or decorate? No problem!
As you probably noted for yourself, you can always find a way out of any situation. It is enough to show imagination, use the advice of the masters. And your plans will definitely come true. Try to create the right atmosphere in every room you own. It's not as difficult as it might seem at first glance? You will succeed, good luck!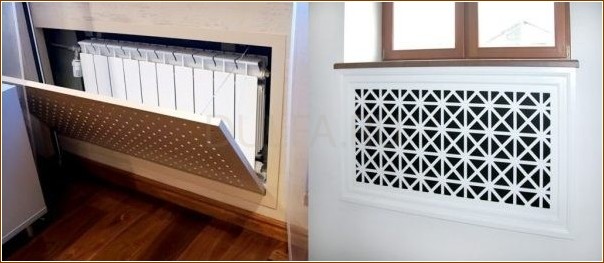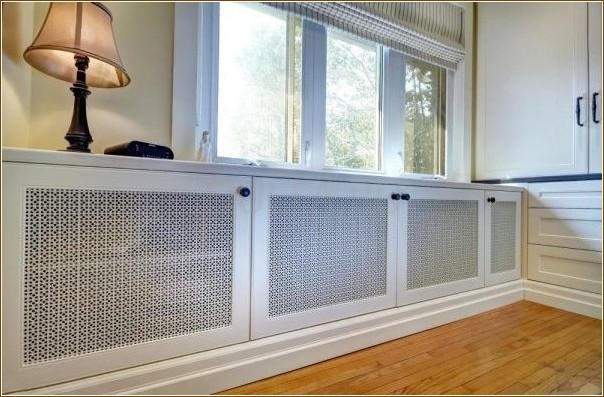 How To Hide A Battery, Interesting Design Solutions