Gray has recently been the leader among interior colors; it is chosen for projects by designers from Russia and the West. It is really neutral, versatile and very convenient for creativity: you can try everything with it.
But in its pure form, it is rarely used, and rightly so: an experimental living room or bedroom can turn out to be very dreary.
But if you combine gray with any other, the solutions are one more beautiful than the other. For example, yellow, which few decide on, allows you to get such a variety of original and harmonious solutions that you are amazed.
But the shades of yellow are sea: from pale lemon to thickened brown, and all of them have been in nature for a long time. The main thing is to open your eyes and see harmony in a yellowed leaf on an asphalt path, in bird colors and even in a squirrel coat, which has turned gray for the winter season.
And if we talk about a specific combination of yellow-gray, this combination has been used in interiors for half a century, and there are reasons for this:
one. Non-staining universal gray color gives calmness and earthiness, without being striking and without giving the house unnecessary gloom and heavy contrast. 2. Yellow — active, it makes the space bright and joyful in summer, gives energy.
This couple fits into both classic interiors and the most modern solutions. And if you remember that colors do not need to be added equally, it will be possible to easily decorate a large room and a small office, and a gloomy apartment with windows to the north…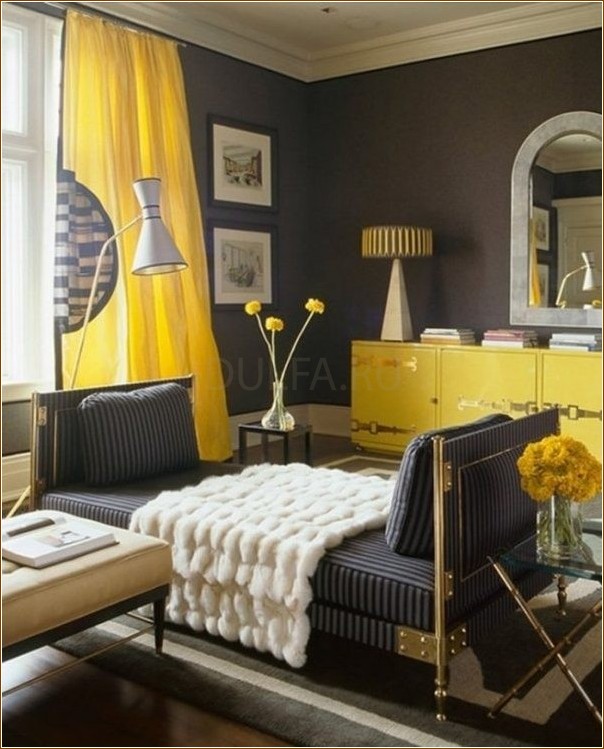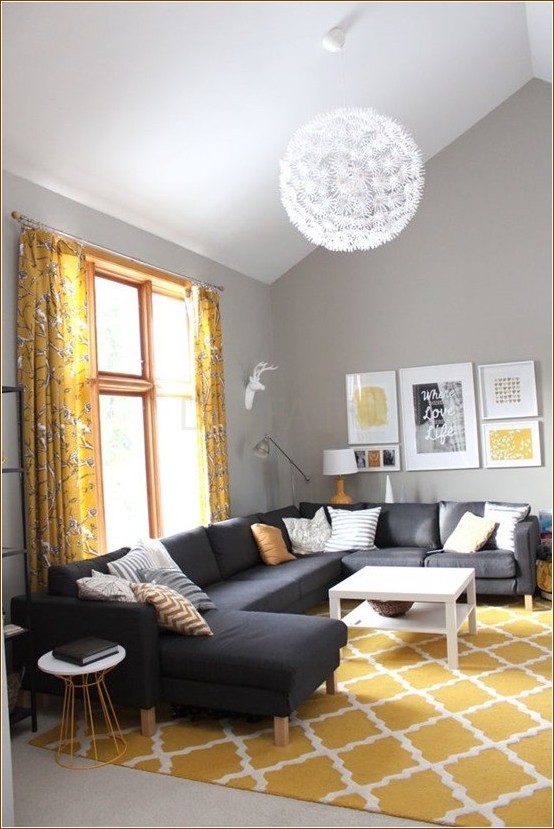 How best to combine yellow with gray
it is best to add yellow to a small room with northern windows. A bright or pale lemon wall will add a summer and sunset feel;
southern hot rooms already suffer from the sun's rays, but the gray tint will absorb the extra heat. And small spots of yellow, scattered here and there, will warm you on long evenings or in winter.
the interior turns out to be calm if you choose light shades of both colors;
dynamics, determination and creativity can be expressed by choosing a rich yellow and combining it with a rich thick gray, for example, graphite or asphalt;
Important: this pair of flowers is self-sufficient, but can be tiring. And if you add additional colors to it, you can make the environment more varied and expensive.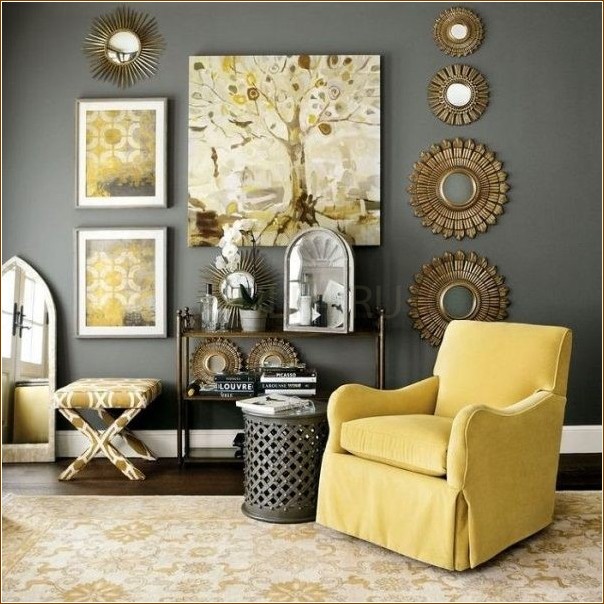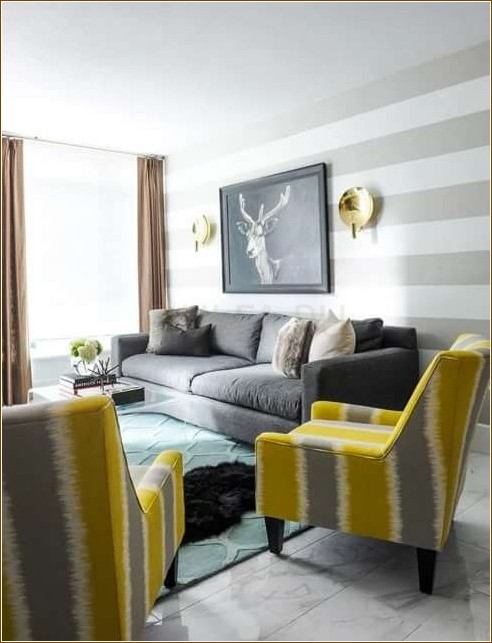 Additional color options:
one. White — gives lightness to the environment, there is airiness and a sense of flight. 2. Black gives a touch of drama, dynamics, refreshes the interior with an unusual and bold contrast. 3. If you want freshness and coolness, a few accents of blue will help you achieve this with little blood. 4. The interior is fresh and springy if you add green to it, for example, a shade of moss or an apple.
Gray and yellow are possible in any room of the house:
in a nursery, a combination of these colors will suit any boy, especially in adolescence. Girls may also love these shades, but they will have to be diluted to the shade of a lemongrass butterfly;
the bedroom should be light, but it will be possible to recoup on bright bedding;
the living room will amaze guests. Surely everyone has thought about yellow at some point, but prejudices or conformism did not allow them to be resolved, but in vain;
the kitchen is the perfect place for this couple. Here the work will boil more actively, and the appetite will wake up immediately.
the hallway looks better in restrained gray tones with accents of yellow.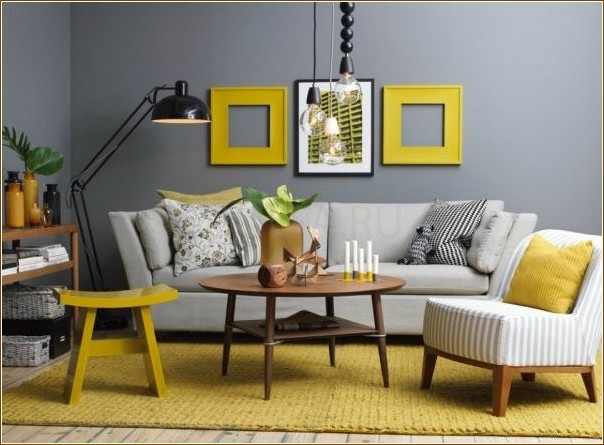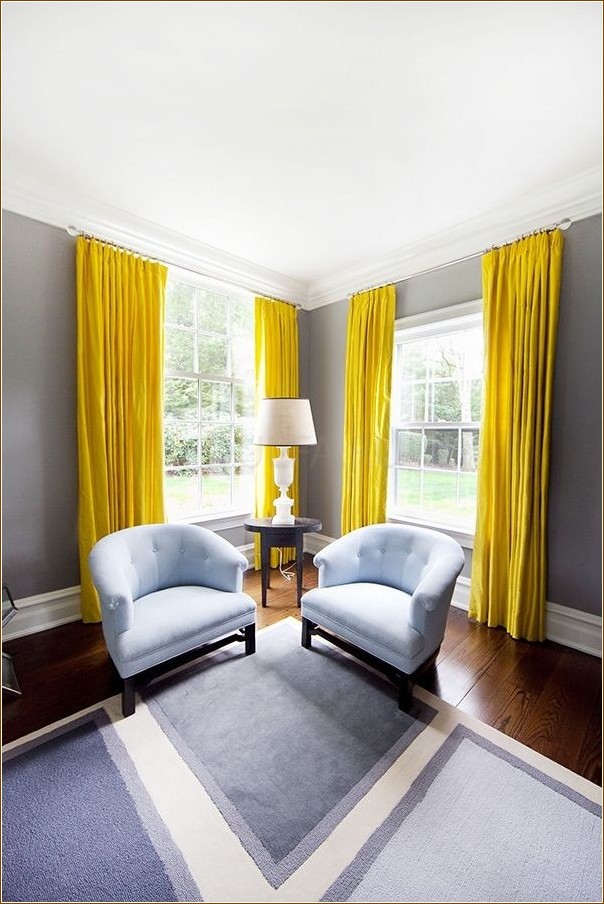 This combination is truly universal, it is as easy as shelling pears to adapt it to any task. It always turns into the only true one and makes the house stylish, elegant and loved.
Yellow in the interior — a combination of yellow with white, green, blue, gray and other colors…